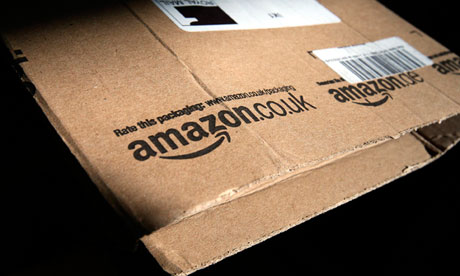 An Amazon package. Photograph: Paul Faith/PA
The future evolution of the London Underground won't only be about tunneling, ticketing and automation. It will also be about shopping. Many Tube stations are already retail spaces too, or else right beside one. But expect the network to grow ever more tied in to the consumer and lifestyle rhythms of the city. Amazon Lockers – self-service collection-point cabinets for goods purchased online – could be one part of that process, a sign of a city in ever-increasing motion. Transport for London expects to pilot the idea before the end of the year.
There are already Amazon Lockers in London – 20 of them according to Amazon's website. A competitor, InPost, has a similar number and plans more. The first Amazon model was installed before the Olympics and others can now be found in an assortment of spots including Brent Cross shopping centre, student accommodation blocks and a handful of Co-ops, including in Chingford and Camberwell.
They may not have popped up inside Tube stations just yet, but the one in Hammersmith's Broadway Shopping Centre, where Tesco Metro meets the Piccadilly and District Lines, is very close. Here's a You Tube clip of someone using it.

Video by Brian Su.


It's like left luggage in a way, the main difference being that the stached item has been deposited by someone else on your behalf. But the attraction for Tube planners is that lockers could be an aspect of further integrating stations with shopping and its place in London's work day and coffee shop life – "joining stations up more with the wider retail environment," in the jargon.
This process could well be part of a much larger one shaping the Underground in the coming decades. The finance of adding new stations and enhancing existing ones seems likely to increasingly depend on arrangements with property developers, as passenger demand soars and austerity economics affect public investment. The Tube-retail marriage looks destined to deepen. I hope to have more on this next week.
This article is one of a series about the future of the London Underground. Previous intalments so far are here and here.
//
YOUR COMMENT